Let me share a bit about my roots and passion.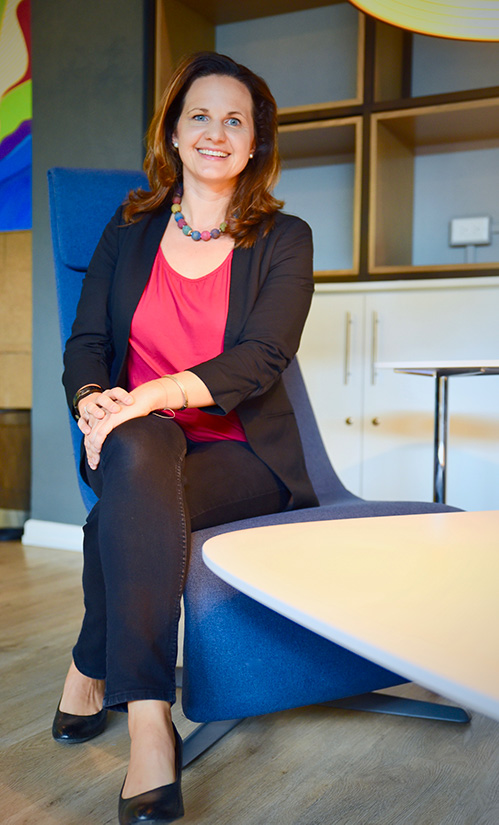 I was born in Zeltweg, Austria, in the middle of the mountains, and always dreamed of foreign countries, cultures, and people – I wanted to become a travel guide at first! The books I read as a child were books of girls traveling to Africa, or describing how kids in other parts of the world live (Unicef's: Children Just like Me). My father invited Yemeni friends to our house, and we regularly listened to stories from afar told in Arabic and English.
Venturing out
No wonder that my choice after High School was to study Tourism Management. Wanting to experience another 'world' in Austria, my best friends and I moved out for the first time in our lives and explored Innsbruck and Tyrol. Studying at the MCI Innsbruck, against the backdrop of stunningly beautiful nature, with a pack of skiiers, globetrotters and explorers that soon became friends, shaped my initial education in organizations, business and management.
To fully explore the opportunities of my Bachelor's program, I spent 6 months living in Barcelona (studying people and way of living) and 6 months in Vienna working for a leading congress management company. Going many places during those years taught me that my roots are everything, and that it was time to settle back in my region being united with my love, family and friends (you know who you are!) that were always there for me.
Coming home
Finalizing my master studies in 'International Management' at the FH Joanneum in Graz was another life defining experience , and I would not trade those student days for the world. I've gained friends for life, traveled through Thailand riding pink bikes, saw New York by sunset and rode by bus to Toronto. I spent each New Year's Eve with Johannes (now my husband) in another European city, and each year we made a promise that the next year would be even more epic than the last. Which was always true.
Venturing into HR
I've always had a passion to connect people, but had never considered turning this passion into a career. By chance, I received a job offer by Iventa, one of the leading recruitment and executive search companies, and learned how to find talent and engage them at the highest levels. I've enjoyed working with this close-knit team, and we've created bonds that have endured and continue growing even now as we all venture into life as working mums. New Year's Eve in Peru started a year of change, and by 2013, I joined epunkt as HR Consultant, and started learning what differentiates a Linux Administrator from a Java Developer. I truly enjoyed the project and client management in this role, and had a superb team, and very supportive boss.
Assignment #1: Addis Ababa, Ethiopia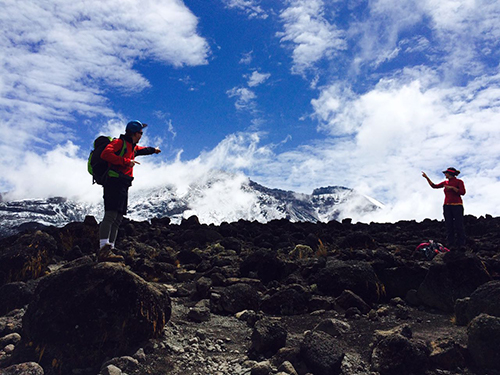 2015 was another year of change, and brought the boldest decision we'd ever made. Johannes and I said "yes" to an opportunity in his career, that would take us to Addis Ababa, Ethiopia. Moving away from family, our closest life-long friends, our apartment and our beloved mountains was a very hard decision, and we took it step by step. By then, we did not see ourselves living for years abroad, but we were ready to love this new chapter in life. We moved with curious, open, yet heavy hearts.
What we learned by living in Ethiopia transformed us, our careers and our everyday mindsets. Living and working in a country that had market growth rates of more than 10% at the time, and having the opportunity to collaborate with global investors, NGOs and organizations that were part of building a modern Ethiopia, made everyday an adventure, a challenge and incredibly rewarding. Soon after moving, I joined Ethiojobs, the country's leading (and still biggest) HR consultancy as Operations Manager. Leading a team of around 20 young and motivated HR minds, and introducing new ways of working into the market was an experience that shaped my leadership, client and certainly strategic skills. Milestones were: the organization of Heineken's national Student Job Fairs and employer branding campaigns, and the award to be the 'Supplier of Choice' for one of the world's leading Garment producers.
What Ethiopia taught me: 
Have a generous heart. We've met incredible happy and welcoming people, living with less than we can ever imagine, who still offered us to join for a cup of coffee. 
Perspective is everything: You choose every day how you see your world. The city confronts you every day with deepest poverty, dust and change. You see it consciously, but never forget to appreciate the sun that rises from the mountains in the distance. 
Remove any bias you have about people, countries, cultures or places. Traveling and actually experiencing places is the only lense you need. 
Connect locally and you'll find true joy: We had the chance to dance at Ethiopian weddings, meet for Injera for after work with our closest friends, explored mountains and made friendships for a lifetime. You know who you are, that made our time in Ethiopia unforgettable and taught us all facets of your country. You've invited us to your homes and shared your lives with us, which was the best gift. 
As expat partner: It is the toughest decision and experience to leave your career behind. You find yourself in another country and waking up with the questions: And now, what? Choose the impact you want to have in the place you choose to be your home now. Dare to try new roles, projects or ideas. You might leave as an international career couple – as we did – that co-creates opportunities for both of us. 
If you're interested to read more about our lives in Addis, visit our blog that was alive until February 2017: https://wordpress.com/posts/aventurasafricanas.wordpress.com
Magic moments happened, we climbed Mount Kilimajaro and came back with surprises, watched the Gorillas in Rwanda, found the Big Five in Tanzania and Kenya, and I finalized my second International Master Programme in Human Resource Management in Kampala, Uganda. Looking back, the experience feels like a surreal rollercoaster ride full of ups (mostly) and of course also downs – when expat blues hit and you incredibly miss your family and friends, especially during important moments and occasions.
Celebrating New Year's in Addis Ababa, we never imagined just 6 months down the road, we'd be living in Jamaica. 2017 was another year of change: We said Goodbye to the place we called our Habesha (Amharic for Ethiopian) home, packed our bags and left with heavy hearts, full of memories and connections. Farewells are always bitter-sweet – excited for what comes next, but mourning the routine and life you are leaving. As expats, we say: An assignment was successful when you actually leave with a heavy heart, when you've created true connections, impact and you loved your new home. Disconnection is the enemy of impact.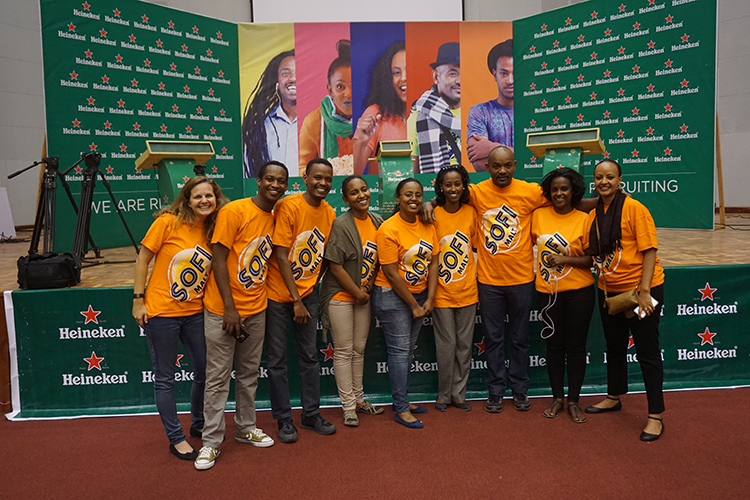 There is a saying: The only men and women I envy is the one who has not yet been to Africa – he and she have so much to look forward to'.
We think back of coffee ceremonies, mountain bike Saturdays with the rider's crew, our favorite food on the planet (Injera and tibs), Walia beer, barbecues, travels to Simiens, Tigray and Harar and so much more. If you are planning to travel to East Africa and need some tips, please send me a message, as I always love to connect with fellow Africa lovers.
Change of scenery: Move to Jamaica
As Austrian mountain people, we always look out for places to live that have mountains close by. Climbing up and seeing the world from top gives you a unique feeling of humbleness and always grounds me. A day in the mountains always puts a smile on my face, and fills me with new ideas and energy. This fascination is inherited by my family, who are all (a bit) crazy mountain people that go outdoors, no matter the weather.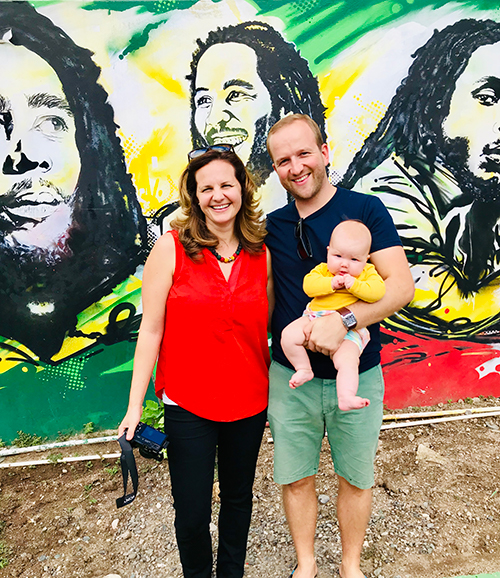 So, in 2017 Kingston, Jamaica was calling. And we found out that the island has the perfect combination of mountains and beaches. The island also faces high rates of gang crime, so safety was again highest priority and knowing where to go and what places to avoid key.
The idea of starting my career again from scratch, in a new country without an established network, felt hard at the beginning, and I started thinking about how to create a portable career and business to be independent. This journey has brought me to where I am today:
My employer epunkt, and international sister company Talentor, approached me to re-join their team remotely and making an impact from afar. Now, I'm connecting top executive search companies from across the globe with our network and create collaboration and growth for all.
Concurrently, I finalized my coaching program with Ipec, which had been 10 months of training, leaving me with around 110 coaching hours, plus strong connections and bonds throughout Florida and South America.
Making an impact locally has always been a top priority, so I've built a coaching partnership with Great People Solutions in Jamaica to support Jamaican organizations as they maximize anabolic energy and impact. And finally, I started my own coaching business Leading Expat Women on Assignment, creating impact for like-minded expat women leaders, who left home to venture out to change the world for the better.
Having enjoyed 10 months of coaching for myself through the program made me resilient and able to master life events: our weddings in winter and summer, becoming parents while living across the world from family, adjusting to life as a mum. Our daughter, Clara, has revolutionized our lives since day one, and teaches us to live in the moment each day. We're so grateful that she chose us to follow her path. What a ride!
Jamaica taught us that life has a beat, a vibe that can be created every day. We learned that drinking coconut water washes off your heart, and that you'll start your day with fresh energy and a pure heart. That feeling is a pure source of joy. So that soil created a lot of potential for us all and I've crafted CocoHeart right here.
My roots
All our adventures are guarded by our parents, siblings, family and friends. My parents gave me some gifts that I've discovered were key for me to be able to build a new life in each country we went to, transitioning through the phases of expatriation myself each time. Who knows when we will leave Jamaica, but hopefully, we will do so with a heavy heart again.
I've learned from my father that adventures are just in front of us – we only need to start walking to create them, and trust that we have the endurance to reach any summit.
I've learned from my mother that kindness starts from within and having a generous heart brings pure joy.
In the end, the girl who wanted to be a travel guide turned into a global nomad herself. Will see what future adventures will come.
Much love, Gertraud